Webinar
Ninth Batch of Techniques and Analysis in Migration Research
Published on February 1, 2023
Details
Event Date
October 2, 2023 6:30 pm (IST)
Event Venue
Online - Webinar
The Ninth batch commences on October 2, 2023
The online Course on Techniques and Analysis in Migration Research will cover crucial aspects of analysing the Kerala Migration Survey (KMS) in an effective, efficient and appealing way to achieve the intended outcomes. Participants will work through a structured process from identifying learning needs to understanding significant aspects to evaluate migration-related policies with effectiveness using the KMS dataset.
The course will provide space and time for participants to reflect, share and build on the migration research through intellectually-stimulated discussions and classes based on Kerala Migration Survey.
Key Objectives
Approach
We provide an interdisciplinary and comprehensive approach for a better understanding of the various facets of migration research.
Family
To learn to analyse and use the Kerala Migration Survey Data through classes, dialogue, knowledge sharing, classes, assignments and other methods.
Programme Delivery
The programme will be offered through online mode. Webinars and interactive discussions through Google Classroom etc. will be used for making learning interaction more effective.
Resource Persons
Eminent Academicians and Policy Makers across the globe who have used the KMS database for their research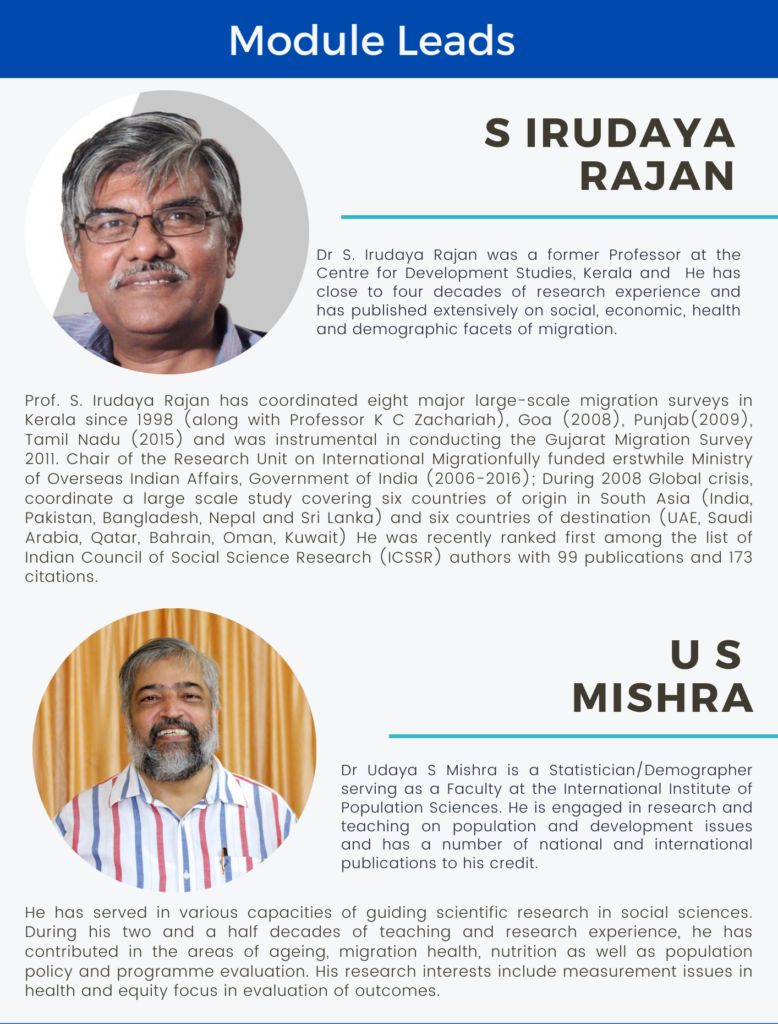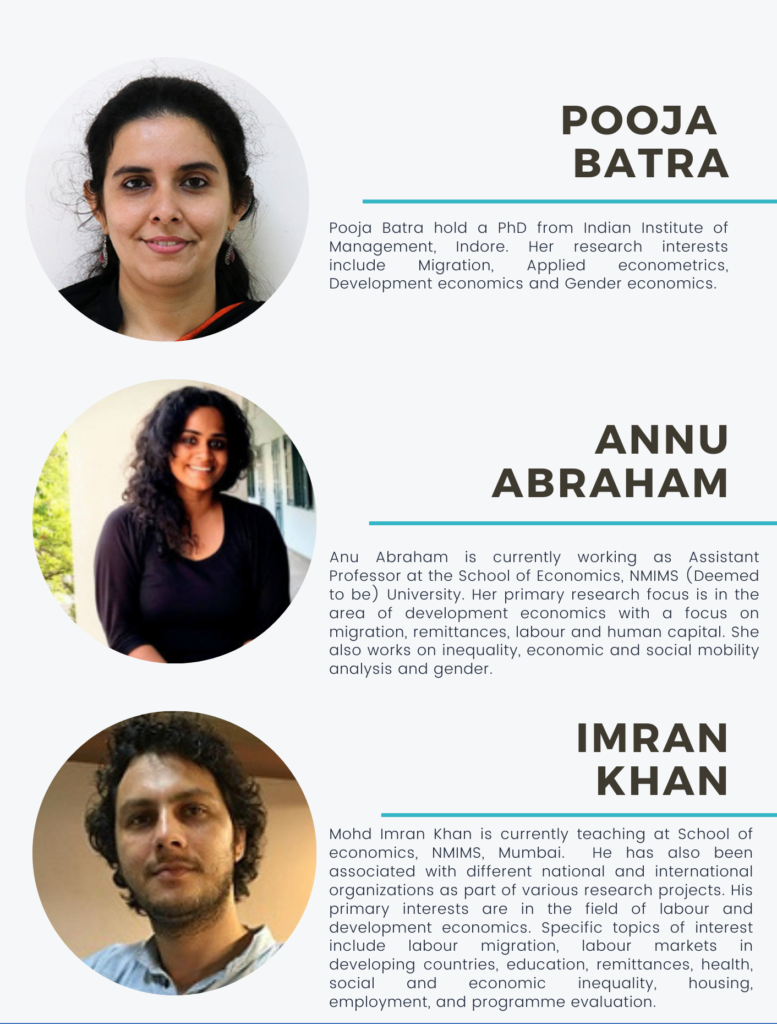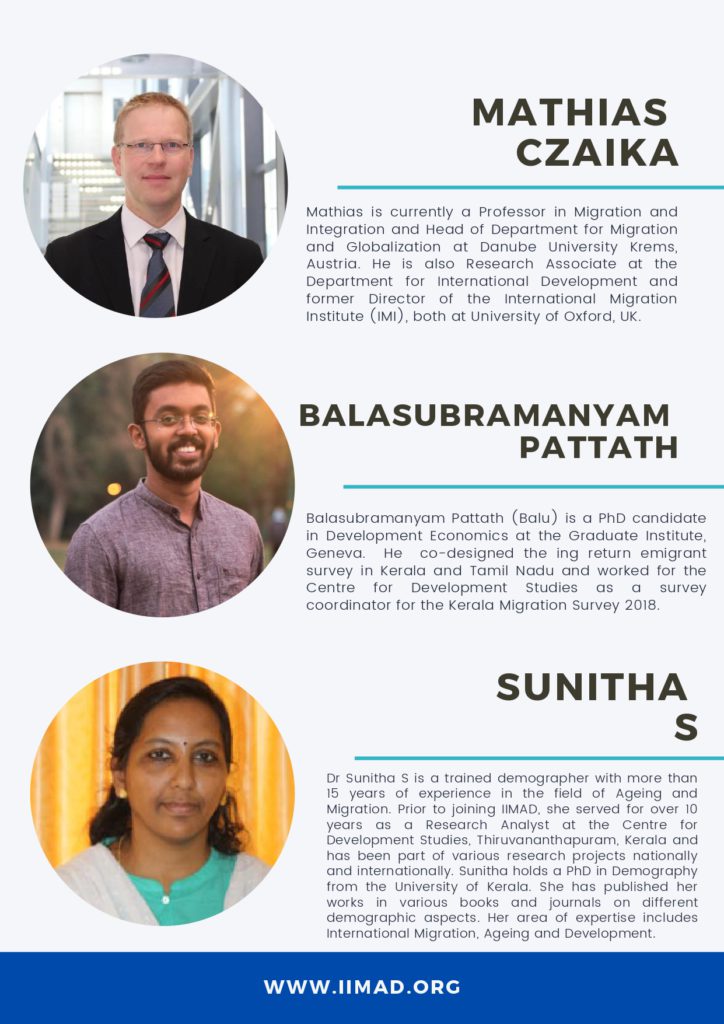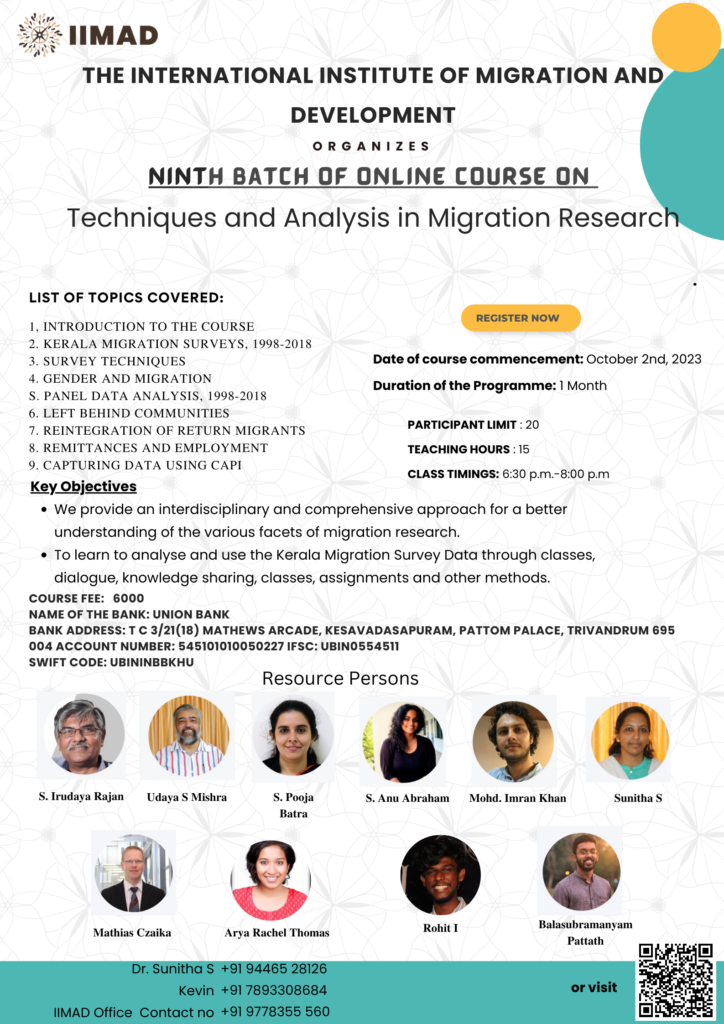 Certification of the Programme: Certificate will be issued by IIMAD
Who can join the Programme?
Development Practitioners, Activists, Students, Policy Makers, Academicians, Diplomatic Missions, Representatives of Civil Society Organisations, Private Sector, Trade Unions, and International Organisations
Date of course commencement: October 2, 2023
Duration of the Programme: 1 Month
Application Deadline: September 30, 2023
Course Fee: For Domestic Participants ₹ 6000 /- (INR) ; For International Participants $100/- (USD)
Mode of Payment: Online Transfer
Name of the Account: The International Institute of Migration and Development
Name of the Bank: Union Bank
Bank Address: T C 3/21(18) Mathews Arcade, Kesavadasapuram, Pattom Palace, Trivandrum 695 004
Account Number: 545101010050227
IFSC/ NEFT/RTGS: UBIN0554511
SWIFT CODE: UBININBBKHU
Interested in the course?
Visit www.iimad.org to know more or send an email to info@iimad.org for more information.
Selected participants will be informed about the full schedule of the Certificate Programme after the registrations are closed.
About the Organisation
The International Institute of Migration and Development (IIMAD) is a centre for academic research devoted to all aspects of international migration. IIMAD aims to advance new thinking of migration and be India's largest interdisciplinary research network in migration and regroups a new nexus of international migration experts. We believe that migration is part of our life and wish to establish ourselves to create a platform for debate, research, policy analysis and community engagement on global, national and local scales. IIMAD collaborates with government and non-government organizations that deal with Refugees, diasporic migrants, and migrant workers in the region.
The International Institute of Migration and Development tries to serve as a node in the domain of migration with excellence in cutting edge academic scholarship that fosters practice-oriented research and policy formulation pertaining to international migration. The IIMAD breaks the academic drought on the indispensable area of migration which is often ignored. The IIMAD, with its distinguished scholar community, works to develop a new thematic pathway and facilitate the future scholars to disseminate knowledge through academic publications, data banks and conferencing. Our firm commitment to intellectual exploration and widening participation nationally and internationally builds as an agglomeration of migrants voyaging for the betterment of migrants.
Organisers
S. Irudaya Rajan
Founder Chair
Sunitha S
Senior Data Manager-Odisha Migration Survey
P Vinoth Kevin
Research Fellow-Kerala Migration Survey